The exports section is a section that collects all exports in excel, links, pdf of artworks and events created with Artshell.
The Exports section is accessible from the vertical menu by clicking on the @ symbol. After that by clicking the horizontal menu at the top by selecting "Exports". Here you will find, in descending order of creation date, all the exports created with the related functions to manage them, particularly: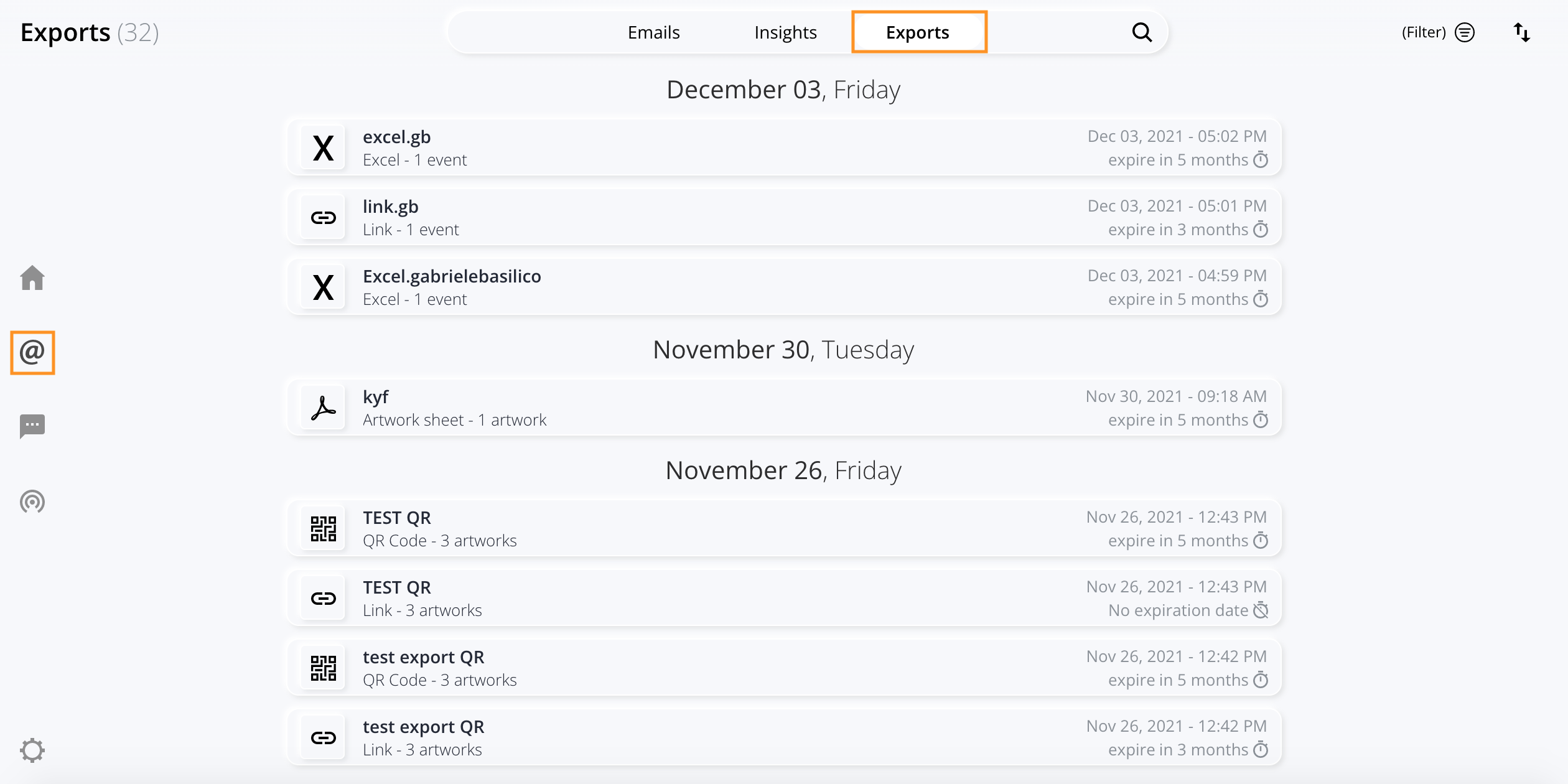 Exports (n.): at the top left you will see the item "Exports" with a counter that shows you the number of exports made.
Search: inside the central menu at the top you will see the search lens symbol, by clicking on it you will open the free or full text search mode.
Filter: with the first symbol on the right you will be able to filter the search with the type of export or content you prefer.
Sorting: the sorting symbol will allow you to sort the exports by the following criteria: title, creation, expiration date. Each of this criteria can be sorted in ascending or descending order, depending on your preferences.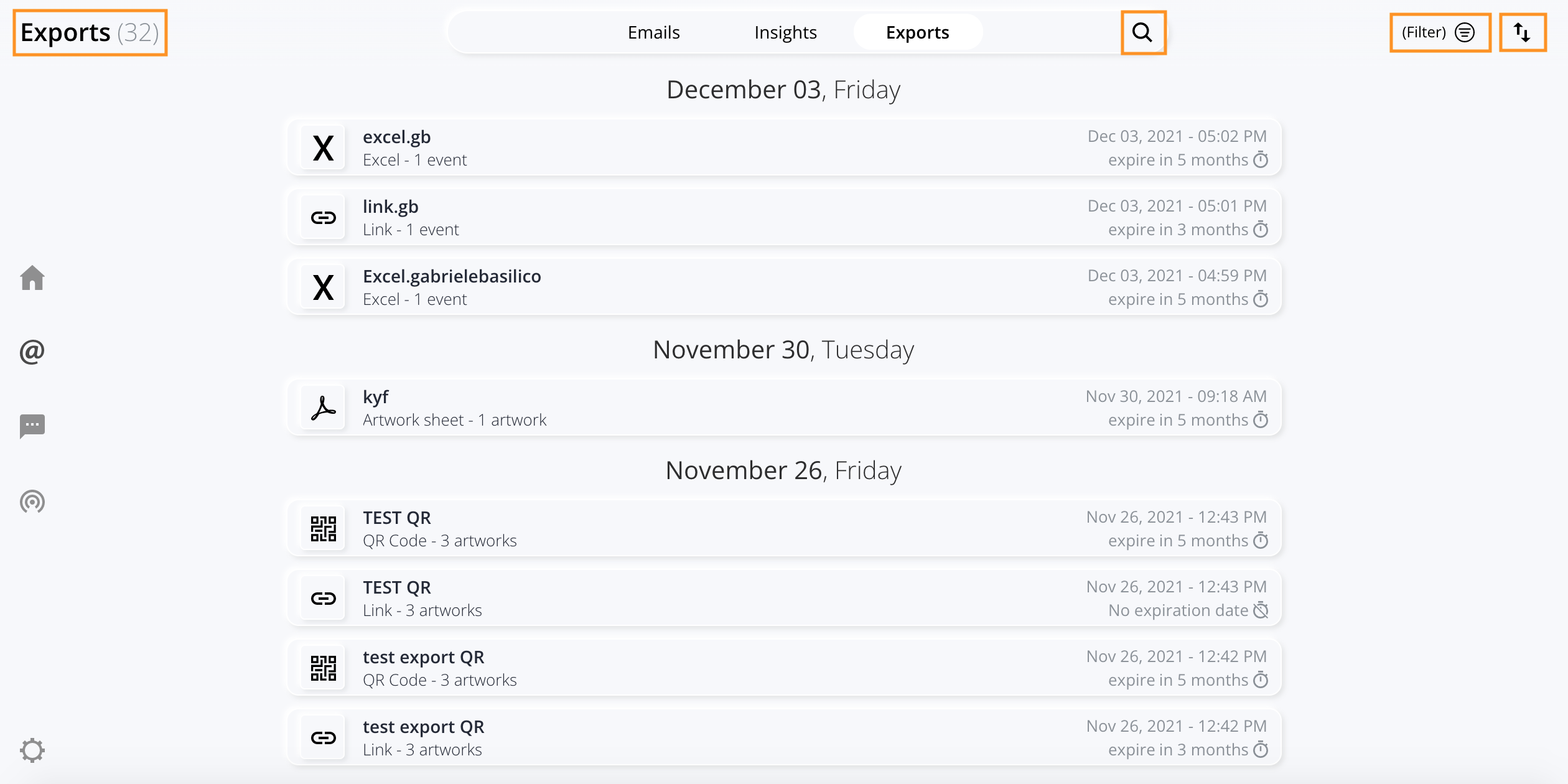 Attention: we remind you that the exports of artworks and events, will automatically flow into this section with an expiration date. In fact, all the exports will last for 5 months only, except for the links that will last for 3 months only. However, it is possibile to delete the expiration date within each individual export tab.
The export tab
By clicking on a single export, a tab will open aside filled with all the details concerning the export, such as: name, file type, creation date, size and expiration date.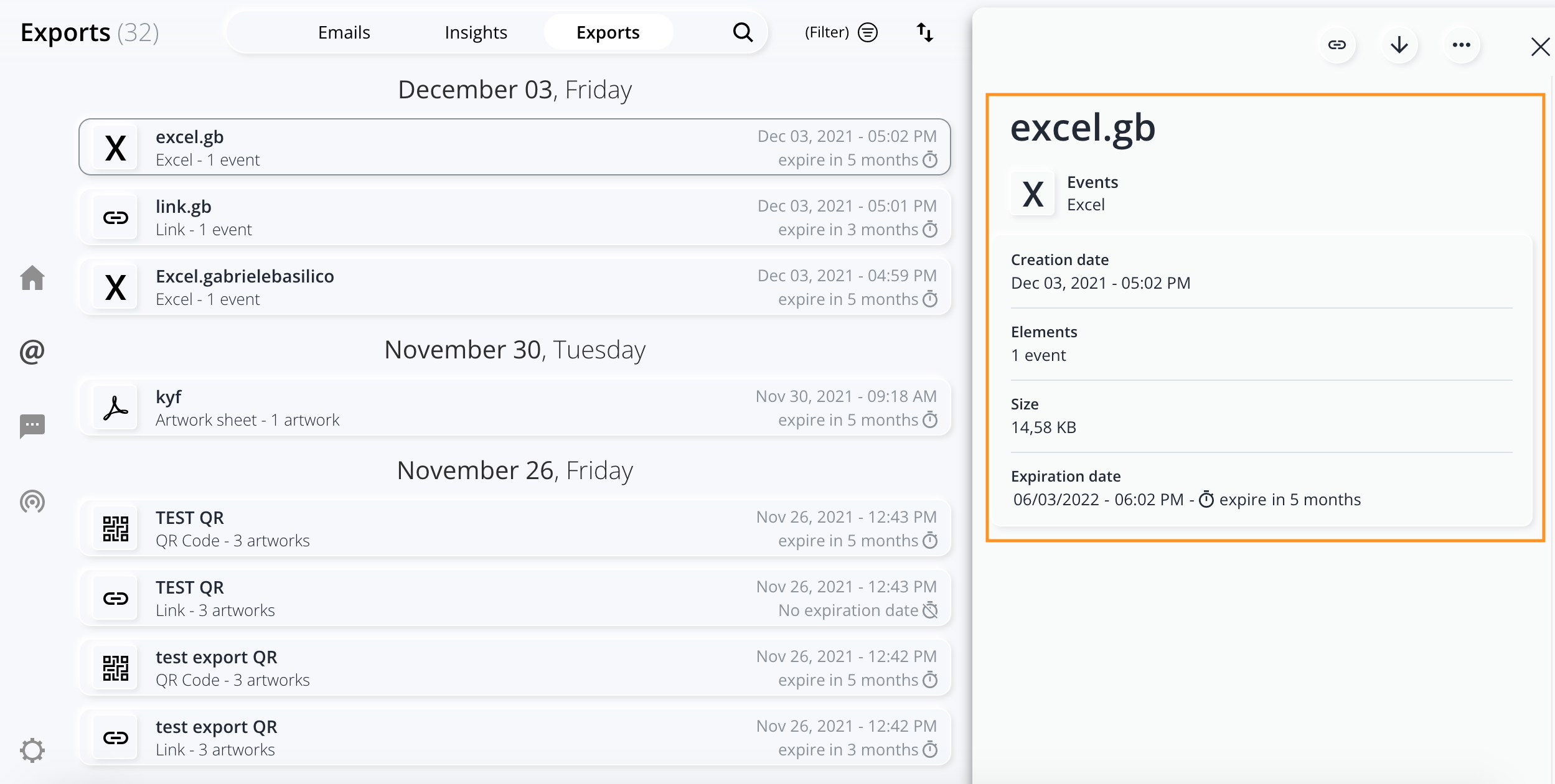 From here, it is also possible to manage the export with the symbols at the top right, particularly:
with the first symbol you can copy the link of your export
with the second symbol you can download again the exported file

with the third symbol, the three dots menu, you can rename the file, cancel its expiration date or delete it.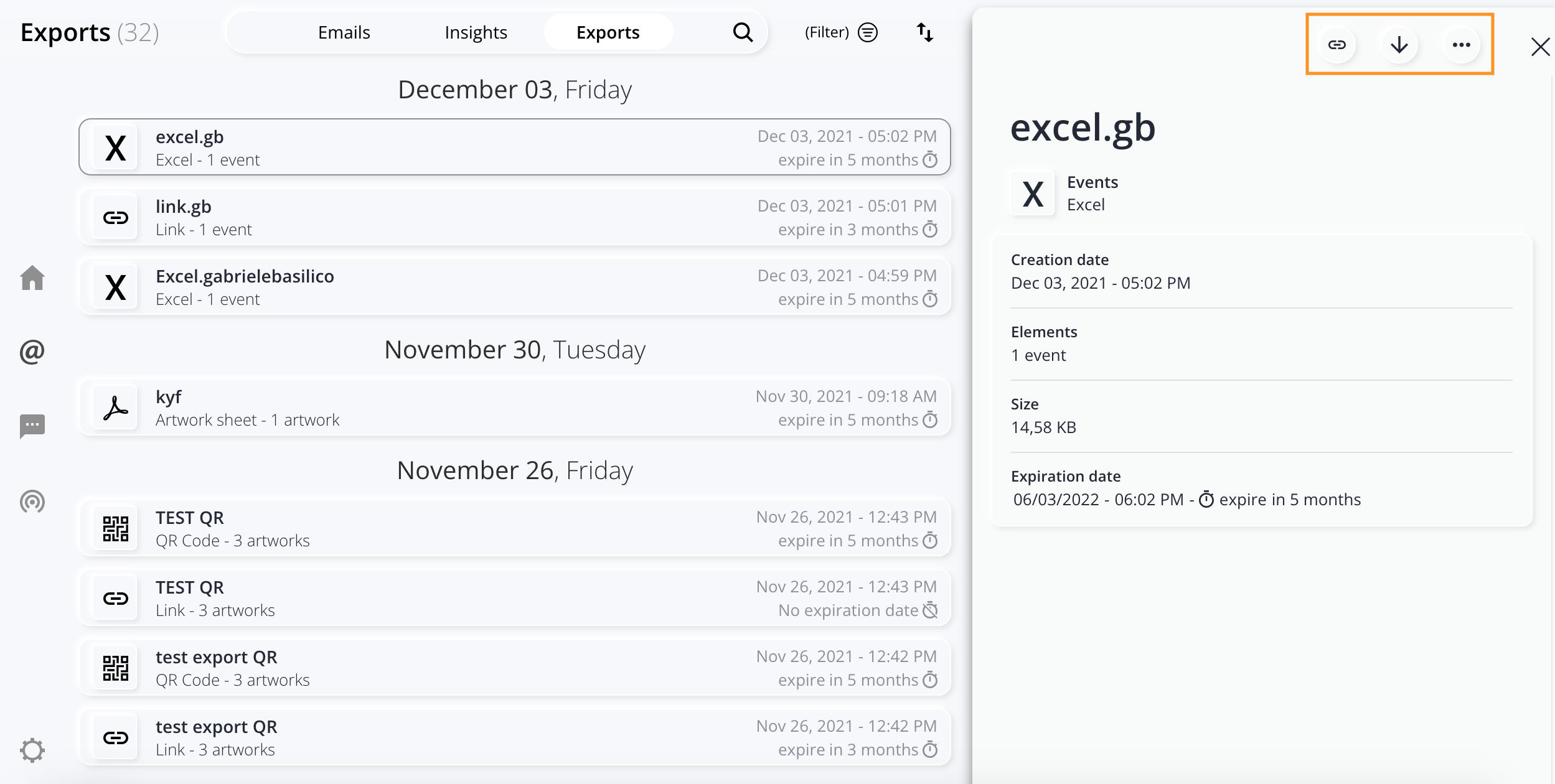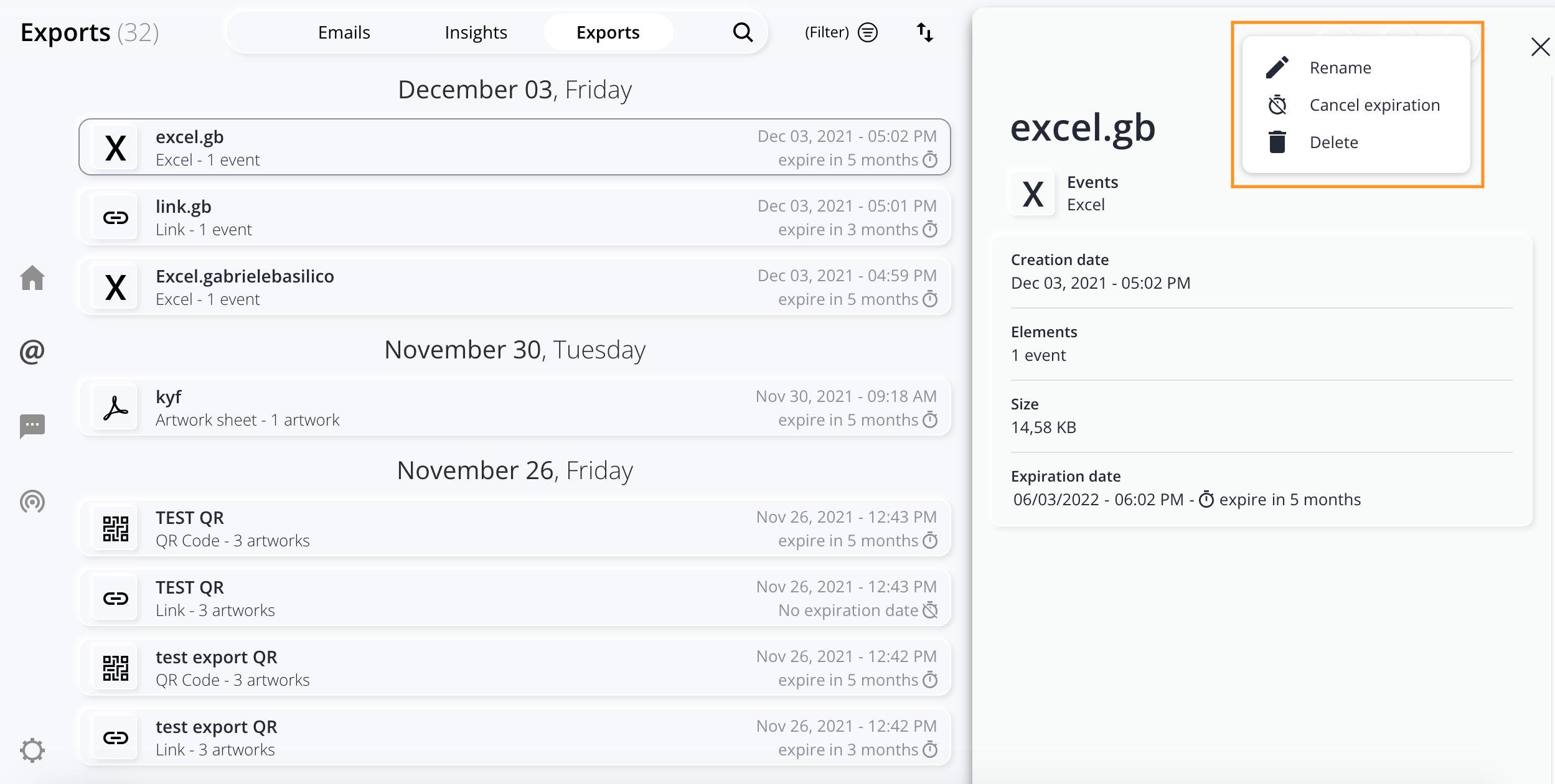 If, on the other hand, it is a link export, it is possible to make changes to the link's contents (inside the artworks tabs or events) and synchronize these changes in the link using the "Synchronize" button at the top left.
Should you encounter any trouble, or should any error pop up, we kindly ask you to reach us at support@artshell.eu, by specifying your information and the name of your account. We also ask you to provide as many details as possible (also through the use of screenshots) about the encountered problem or about the request for help, so to help our support department identifying and solving the matter in the fastest way.